Outdoor Branding
Durga puja is a revered religious and cultural festival known for its grandeur all over the world. It's not just West Bengal that looks up to it but the entire world. During Durga Puja, West Bengal has the world's attention and is an apt time for maximum brand promotion.
We have promoted in 72 Puja Pandals across West Bengal by installing our Banners, Gates & Standees. Out of this 72 Pujas, 52 got felicitated by Biswa Bangla & 3 got Asian Paints Sharad Samman.
---
According to a validated estimation, the gates and banners were viewed by 8 lakh visitors physically and an additional 8 to 9 lakh viewers through other mediums, such as puja parikrama broadcasts. The campaign touched an astounding number of people, and the response has been phenomenal. The amazing success of this promotional campaign has encouraged us to upgrade and use a similar campaign for coming years too...
What We Did
Used Creatives
We optimally utilized this opportunity, by installing gates and banners across several puja pandals in Bengal. It is a crucial time to get noticed by pandal hoppers and get impressed with visuals they can retain when they see our audio-visual advertisements. Interestingly, the puja pandals were clicked and shared over social media; thus, our gates and banners were circulated too. This was an added advantage and we got largely benefitted from it.
Overhead Gates
Big Facade
Standy
Hoarding
Actual Images of Different Branding Options Executed All Over West Bengal
Kolkata
Carnival
Puja Hoarding & Gate of East Midnapore, East Burdwan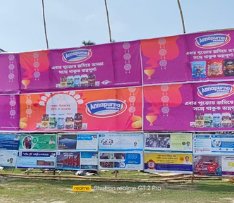 Nandakumar
Nandakumar
Nandakumar
Kalna Gate
Kalna Gate
Ichalabad Youth Club
Ichalabad Youth Club
Boronilpur
Boronilpur
Boronilpur
Puja Hoarding & Gate of East Burdwan, East Midnapore, West Midnapore, Malda
Ichalabad Youth Club
Club Paradise
Club Welfare
Chotabazar Sarbojonin Durgatsov
Rabindra Nagar Sarbajonin Durgaysov
Bidhannagar Purba Sarbojonin Durgapuja Commitee
United Club & Library, Uma Roy sarani
Sibaji Sangha
Kollan Samity
Anik Sangha
Puja Hoarding & Gate of Murshidabad, Hooghly, Birbhum
Jangipur Sahebbazar Sport Association
Jangipur Sahebbazar Sport Association
Babulbona Young's Corner (Madhupur Nh)
Basantitala
Halder Bagan Sarbojonin Durgatsav Commitee
Dankuni Milani Unnayan Samity
Jambuni Sarbajanin Durga Puja Samity
Sainthia Agrani Samaj
Sainthia Agrani Samaj
Suhrid Sangha (Mallarpur)
Puja Hoarding & Gate of Birbhum, N. 24 Parganas, S. 24 Parganas, Darjeeling, W. Burdwan
Suhrid Sangha (Mallarpur)
Labpur Puratan Bus Stand Sarbajanin Durgatsab Committee
Kalyan Krit Sangha
Padmapukur Youth Club
Rathkhola Sporting Club
Subrata Sangha
K-Sector Sarbojonin Durga Puja
Apcar Garden Durga Pura Committee
Kalyanpur Scheem-11 Durgapur Committee
Court More Adi Durgapuja
Social Media Marketing
A paid social media (FB, Instagram & WhatsApp) fun campaign was executed across several Puja Pandals to trigger active participation and engagement which subsequently helped in increasing followers.
Facebook & Instagram campaign "EBAR PUJOY AMRAI SERA" was planned from Mahalaya wherein multiple product promotions were performed to increase more connect and awareness.
The participants framed Durga Idol and Pandal pics along with beautiful selfies and posted in our page and the selected top 6 have been awarded...
Ebar Pujoy Amrai Sera Post on Our Platform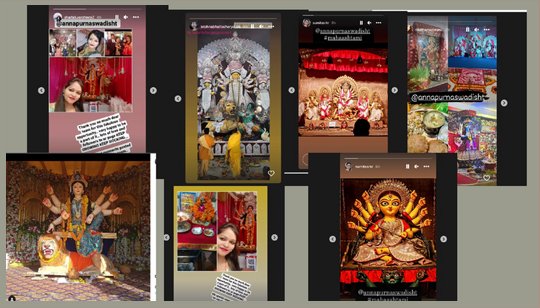 Where We Are Now
Before Puja 3070 page likes
After Puja 8010+ page likes
Before Puja 50 followers
After Puja 10000+ followers
WhatsApp Wishes
We have sent greetings & wishes to more than 700 business partners associated with us starting from Mahalaya to Dashami via WhatsApp.
Social Media Videos
Social Media Posts
Television Branding
This year we explored multiple avenues and utilized on television for maximum brand promotion. We promoted through Star Jalsha , Zee 24 Ghanta, Colors Bangla and Siti Cable.
TV Programs
Kid's shows generate a substantial viewership of all age group which influence consumer choices. Because it's not just the children who watch the show but even their parents. kids trigger demands, that parents fulfil and thus spread the brand faster.
Keeping this in mind and since kids prefer snacks and cakes, Annapurna sponsored "Dugga Maa er Golpokotha" – Mahalaya for kids & Mahisasur Mardini also aired on Colors Bangla. Star Jalsa Mahalaya also sponsored by Annapurna. Besides this, our advertisements were continuously aired on Zee News 24 Ghanta's "Ei Muhurte" 18 times a day 60 secs approx and other channels as well.
Puja VIP Pass
Other than normal TV campaign, we have issued 6,25000 VIP passes for Pandal hopping along with Siti Cable. Siti Cable facilitated the pass distribution and it was distributed to maximum local cable operators across districts.