Shreeram Bagla
Shreeram is the driving force behind Annapurna, with a decade's experience in the Snacks industry.
He currently leads the Company's strategic expansion and management function. A Bachelors Degree holder in Economics from Calcutta University, Shreeram brings a deep understanding of the sector coupled with long-standing connections critical to fuel the growth appetite of the company.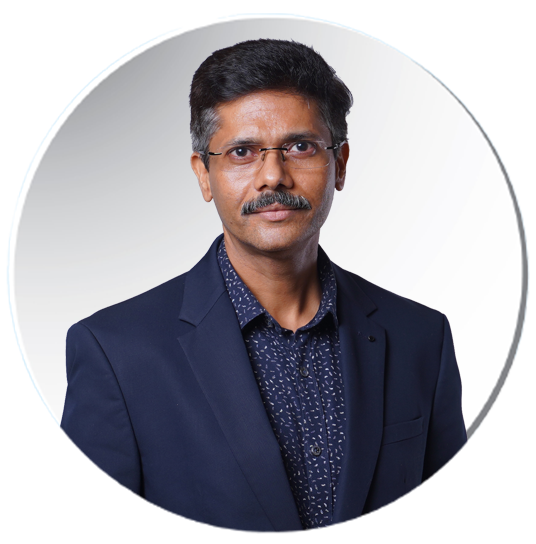 Rajesh Shaw
Rajesh is spearheading the company's efforts in implementing an ERP CRM package.
An ICWAI member and a science graduate, Rajesh's last assignment was with ITC, where he spent 11 years as an SAP FICO Manager implementing the Finance Business process requirements and mapping them with the SAP R/3 system. Besides, he's also worked with reputed companies, primarily as an IT process systems professional.
Sumit Sengupta
Sumit heads the general trade sales alongwith branding and marketing functions at Annapurna.
Besides, Sumit is also leading 'Olonkar' - company's D2C venture aimed at empowering the rural artisans. Sumit is an Engineer and has over 23 years of rich experience in various fields, including FMCG channel sales, Media Marketing, Retail and B2B network sales working with companies like Nestle, Parle, GPI, Future Group, ABP, Hindustan Times etc
Chandan Ghosh
Chandan is a thoroughly experienced FMCG professional who has worked as a Former Region/Country Business Head of a Globally managed vertical of Nestle.
Over his illustrious career, Chandan has worked across leadership roles in different regions/ countries: Bangladesh/ Malaysia and other Southeast Asian countries/well as Sub- Saharan Africa. He has handled the General Management role responsibilities in managing People, Brand, and P&L. Chandan is a science graduate from Jadavpur University and a former basketball champion.
Dr Hitu Gambhir Mahajan
Dr Hitu Gambhir Mahajan - Marketing , Communication and Media Leader over 20 years in the domain of Television , Print, Radio and Entertainment.
Specialist in Business Development, Sales , PR and Crisis Management , Strategizing, Analyzing and Executing Events. Honored with Woman Excellence Award in 14th National Conference and Awards Ceremony 2022 on Building New India. Felicitated with The Women Entrepreneur of the Year 2018 by Global Business Leadership Award organised by WPDO ( World Peace and Diplomacy Organisation) and CIAC Global.
Board of Directors
Shreeram Bagla
Rajesh Shaw
Sumit Sengupta
Chandan Ghosh
Dr Hitu Gambhir Mahajan
Rachna Yadav
We are here to treat mainly the rural heartland of India and bring smiles to their faces. In 2016, we registered our company as Annapurna Agro Industries which is presently established as Annapurna Swadisht Limited.
Since then, we've learned and expanded our business with the help of our rooted customers in villages over the course of six years. All of this was made possible by our tireless efforts to establish a multilayer distribution network comprised of distributors, wholesalers and retailers who ensured that our products reached the people every possible corner who mattered the most for our survival.
With the vision of our most experienced Board of Directors, we are presently operating 3 manufacturing units in Asansol and Siliguri.
Further, 2 more facilities are being set up in Gurap and Dhulagarh and we are expanding our offerings basket by adding products that are high on 'impulsive-buying' namely, instant noodles, rusk, other biscuits and edible oil.